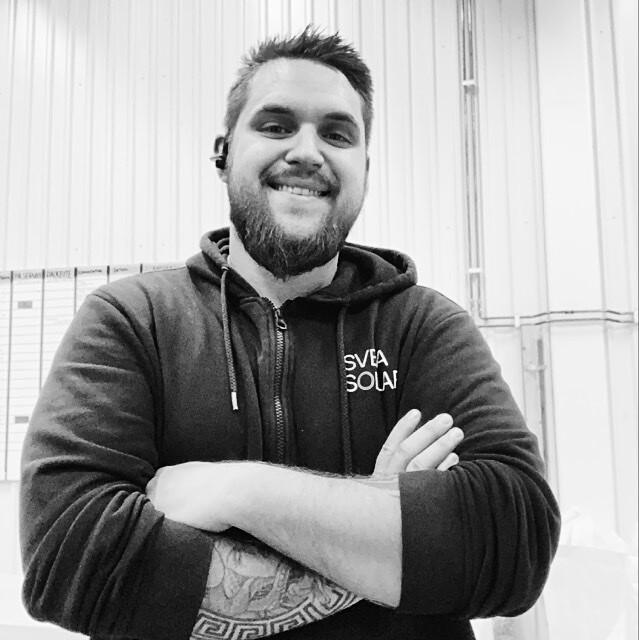 Dzenan Imamovic - Electrician B2C
Something that perhaps makes me stand out from the crowd is my eyes for details, especially when it comes to teaching our customers. I turn off the "electricity" lingo and as clearly as I can illustrate the flow from the panel --> the inverters --> the house.
Tell us about yourself and your role at Svea Solar
I'm working as an electrician in the B2C Team here in Stockholm and I've been here now for 1,5 years. I worked with solar panels before joining Svea Solar and I have a background as an electrician.
What does a normal day at work look like?
As an electrician, my main job comes in the final step in the installation process at our customer's home. Connect all the products: the inverters, the EV-chargers, and batteries in order to complete the project. Followed with educate our customers on how to use the products and usually am I working at two different projects per day.
What do you enjoy the most about your work?
The best thing is without any doubt the contact with our lovely customers. Can't get enough of that feeling you know after delivering the service to customers and making them happy. Another great thing about my daily work is that not a single day can pass by without me learning something new also I really like that you get to be independent and get autonomy to plan my own work-days. At previous jobs it was an classic electrician work where you often did the same thing at the same place...it was an apartment building and each apartment looked the same. Since all houses differ I really get the chance to develop my skills within the function behind electricity.
As an electrician you often work alone – doesn't it ever get lonely?
No there is no problem, I often meet up with my colleagues for lunch and we also have morning meetings every day.
What did you do before you joined our forces?
I worked previously at another solar cells company and when I felt that was what time for a change, I almost immediately turned to Svea Solar due to all the great things I'd heard, and it was exactly as I imagined. I would describe the work climate with the word respect due to fact that I can make my voice heard. Things get treated professionally and if any problem occurs it gets handled quickly. People here really want to do a good job together with high quality and therefore is it clear that I can grow here.
Why do you recommend Svea Solar?
Here you get the possibility to learn from other highly skilled professionals and during your employment, you also get access to other kinds of internal classes. I also really appreciated that I after some time got the chance to start educating other power shifters as well, the learning curve is somewhere around 2-3 weeks. Another reason why I recommend Svea is that it's a company with very nice people, I click with both colleagues and leaders. I still remember my first day, wow what a welcome! People knew it was my first day and took time to welcome me. At previous jobs when arriving at a new construction site the staff never knew I was new, it was also, all the same, fika with randoms in a container. Here it's soooo much fun!
Any plans for the winter?
The plan is currently Sälen, I promise you all without any doubt that you will find me in the slops ⛷